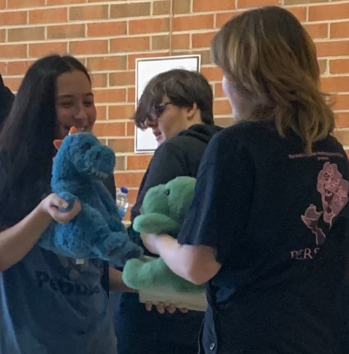 RINGGOLD, Georgia – On Nov. 1, four schools arrived at Ringgold High School to compete for the district 6 AAA Regional One Act Competition. 
Every fall, high schools of the same size within a given district get to compete against one another, not only in traditional sports such as football, volleyball, and cross country but also in a theater competition. 
This competition, known as One Act, encourages students to produce a play or musical less than 55-minutes long. These plays are then evaluated based on their ensemble, individual characterization, composition, overall effect, etc. 
Many people would expect a room full of theater kids fueled by caffeine and competition to be full of divas and tension, but the opposite is true. 
The One Act Regional Competition allows students to build one another up, make new friends, and reconnect with old ones. According to Sage, a sophomore at Coahulla Creek High School, he was looking forward to Regionals because "it is one of the three times a year I get to see Jacob," a fellow sophomore at Ringgold High School.
While there are eight AAA schools in Georgia's 6th district, only six schools have theater companies and of those, only four competed in this year's One Act Competition. After a full day of performances, the results were finally announced.
Coahulla Creek High School placed last this year with "146 Point Flame," a drama about the 1911 Triangle Shirtwaist Factory fire. Coming in just two points ahead of them was Ridgeland High School with their performance of the classic musical Sister Act. 
It was a close race between the Adairsville and Ringgold High Schools for first place. However, Ringgold ultimately pulled ahead with the Elvis inspired musical All Shook Up, making this their fifth consecutive year winning regionals. Adairsville was just a few points behind them, making this school runner up with their performance of 26 Pebbles, a drama about the Sandy Hook Elementary School shooting. 
In addition to overall rankings, one male student was named Best Actor, one female student was named Best Actress, and 2-3 students from each performance were honored with the title of All Star Cast, or the best actors from each performance. 
This year, Best Actor went to Ringgold's Luke for his performance of Dennis and Best Actress went to Adairsville's Asia for her performance of Deloris Van Cartier. 
One Act encourages students to step out of their comfort zone and grow. According to Asia "last year, I couldn't have done this. I had such bad stage fright." 
As Ringgold High School prepares for their State One Act Competition, the other high schools begin preparing for either the upcoming literary competition or their spring musicals. Make sure to keep an ear out for more information about these shows as we get closer to performances.