The Mako Surgical Robot was made by MAKO Surgical, a company founded by Tony Abovitz. Z-KAT, the predecessor of MAKO was founded in 1997 by Tony Abovitz, William Tapia, Michael; Tapia and Pushkin now work for MAKO surgical. The MAKO Surgical is based in Florida and has produced more than 1000 Mako systems in 28 countries and in every state in the US. Stryker Corporation then bought MAKO Surgical Corp.  in 2013 for 1.65 billion dollars, they kept the design and improved the robot's accuracy. The most common surgeries made by the Mako are removal of the gallbladder and replacing the hip.
Dr. Meter is an orthopedic surgeon who operates the Mako in total knee and hip replacement surgeries at Humboldt General Hospital in Winnemucca, Nevada.  Dr. Meter completes about 1 to 2 joint replacements per week. Although using the Mako is more accurate, it is not necessarily easier.
In his words, "After I have started using the Mako in my surgeries, everyone has come out perfect, and I mean perfect."
The robot uses pins that the doctor inserts in the fibula and femur. The robot then uses cameras to create a CAT scan of the knee. It creates an outline around the part of the bone that needs to be replaced. If it is green, Dr. Meter has to drill some more off the bone. If it becomes red, he has drilled enough. The Mako automatically aligns and tilts the drill, which is attached to the end of the arm. The arm also doesn't allow Dr. Meter to accidentally go outside of the guidelines. The benefits of using Mako are that it is safer and more consistent.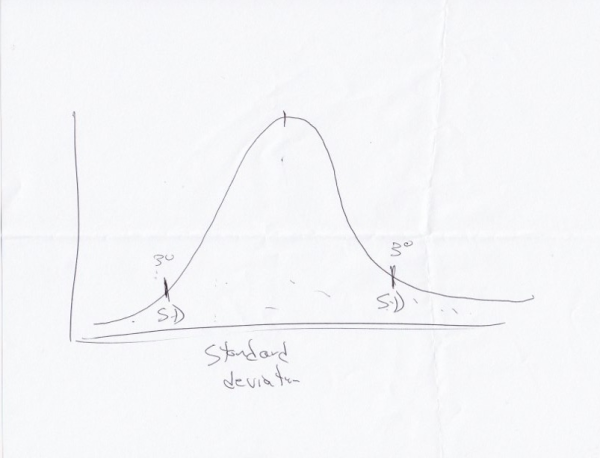 The Mako robot uses something called standard deviation. Technically, it is how Mako automatically levels the drill. As seen in the diagram, most range of motion in the human body is inside the arc. The two lines on the side are the standard deviation. If the line on top is just 1 degree off, the lines on either side can be 4 degrees off. Mako uses something similar to this graph to keep the drill level. In conclusion, the Mako is a great option for joint replacement surgery. It is more consistent, accurate, and safer.