With most coursework being asynchronous, managing your time at GWUOHS can be quite the challenge. On top of that, planning it around weekly live classes, club meetings, and other commitments is no laughing matter. This is especially true since it is our job, as students, to fit all of a specific day's assignments into our schedule, rather than the teacher's.
However, there are several techniques to make your time doing coursework more controllable and effective. These tips should hopefully help you get through your school day with more confidence.
Set aside time for each subject
For every day of the week, dedicate a set window to work on every subject. This can be arranged around your commitments for that particular day. Just make sure you have it planned out beforehand, so you know exactly what you are doing when you dive into that day's work. 
In addition, make these subject windows small to keep your attention alive. For example, work on biology for an hour and then move onto a one-hour window of math. Continuously working on a single course for over an hour, until you finish all the day's work, can not only make you rapidly lose interest but also negatively impact the quality of your work. 
At the end of your school day, set a time to finish the bits that are remaining from each course. This way, your schedule has a typical classwork-to-homework layout. 
Take regular breaks
Even with an organized schedule, it can be tempting to immediately move on to the next subject after finishing the previous. Don't do this! Staring at your computer or simply working on school for too long can lead to decreased productivity and potentially burnout. 
Take a break for at least five minutes between each designated schoolwork time slot. During this break, get up from your seat, drink a glass of water, perhaps simply walk around your room, or look out of your window. After your five-minute window closes, you can move onto your next piece of schoolwork.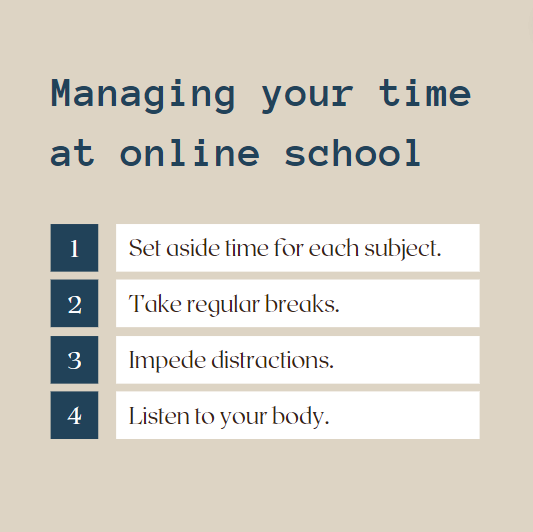 Impede distractions
This is obvious but keep your phone on silent and don't check on it when you are working on coursework. Close out of all browser tabs and windows that are unrelated to school. Essentially, place anything that distracts you out of your reach. If you have to walk all the way across your room and down the stairs to get your phone, you're likely not going to go get it.
Listen to your body
Ultimately, follow what your body is telling you. If you are burning with a headache, don't be extremely fixated on those forty-five more minutes of Spanish that you have to complete. Step away from you computer. Take a break. When you are not feeling well, your schedule is not your biggest priority. And while following your timetable is a wonderful habit, it is important to know when to temporarily let go of it. 
Well, here you go! You are all set to confidently dive in and tackle your schoolwork.