Accompanied by the resounding blow of the ram's horn at the synagogue, families contemplate their relationship with God while preparing unique dainties made of honey and fruits.
Rosh Hashanah, one of the Jewish High Holy Days that falls between mid-September and early-October, is an important festival commemorating the Jewish New Year. The holiday spans for about two and a half days and is filled with religious customs, fresh beginnings, and delicious food.
"My family usually hosts a dinner where we make roasted chicken and challah bread," senior Madison Roach shared. "The traditional food of the holiday is apples dipped in honey for a 'sweet new year' so those are usually also on the table as well."
In addition to all the special food, the Jewish New Year represents an opportunity to start anew. Roach's family partakes in a special custom that symbolizes this belief. 
"We go to something called Tashlick, meaning 'cast away' [in Hebrew], where we throw old, stale bread into a [body of water] as a way to cast away our sins for the new year." She described this tradition as "basically starting off with a new slate."
It allows students who celebrate these holidays to not worry about school, and those who don't celebrate can work ahead if needed."
— sophomore Audrey Betts
This year, the school community started a new undertaking on this day of fresh beginnings. As an effort to promote appreciation of diversity, which is one of the community values of GWUOHS, the administration added seven cultural holidays to the school calendar, including Rosh Hashanah, Yom Kippur, Diwali, Lunar New Year, Good Friday, Eid al-Fitr, and Juneteenth. Science teacher Whitney Keaton pointed out that this value is particularly important "because our students and staff are all from different geographical and cultural backgrounds."
By encouraging curiosity, observing such holidays at school is valuable even for those who do not celebrate.
"It gives students a chance to ask questions and learn more about certain holidays," Roach noted.
For those who do celebrate, not having to worry about school allows them to focus more on their festivals, especially for something like Rosh Hashanah which has a plethora of preparations and customs.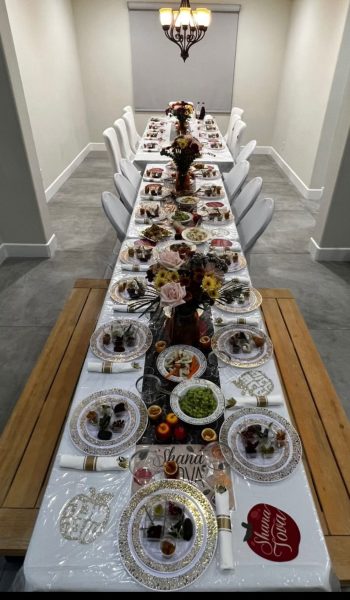 Freshman Neve Drori found that she was able to celebrate Rosh Hashanah more thoroughly because of her day off.
"It gives me a chance to reconnect with my family and celebrate the holiday of my ancestors. I am able to go visit my grandmother and cook Rosh Hashanah dinner with her."
This was the first time Drori has had school closed for this holiday, so she was thankful to be able to spend time with her family on this special occasion.
However, like any other change, this development comes with its own challenges. More holidays result in fewer days of school, which would potentially increase workload and pack students' schedules. For example, since school will be closed on Juneteenth, which falls during finals week, both English and history finals will have to take place on the same day.
Nevertheless, sophomore Audrey Betts did not think that this would be a significant problem because of the adjustable and asynchronous structure of GWUOHS.
"Although certain deadlines are altered," observed Betts, "due to our flexible schedules, we can work at a different pace if we want to." 
Drori agreed. While she acknowledged that the change would impact everyone's workload "and cause some problems," Drori said that it is still "important to celebrate holidays with our family and friends."
Overall, community members believe that advantages of developing an open-minded and inclusive environment are worth the minor scheduling compromises.
"To foster a culture of respect, it is important that we actively learn about one another and find ways to connect," science teacher Keaton explained. "Understanding other ways of life and finding ways to celebrate those can make our lives more interesting and fulfilling."