Safiye S., editor
On April 7th, the world saw the largest supermoon of 2020: the "Super 'Pink' Moon". This full moon was the first full moon of this spring and with the sense of global community being needed more than ever people around the world rejoiced at the sight of this month's supermoon.
Photographers worked to capture the scenic phenomenon which led to the creation of and although a large part of the world's population was practicing social distancing the isolation did not stop people from enjoying this rare astronomical event. The rare occurrence was seen as a symbol of hope in times of crisis.
Tuesday's super moon rising over Saunderstown, Rhode Island.
Mike Cohea
A supermoon is defined by the moon reaching its closest encounter to the earth and what makes supermoons special is that they appear to be up to 7 percent larger and about 15 percent brighter than an average full moon.earlier in March was 0.1% less close to the earth than this month's supermoon making the pink supermoon the biggest of all the supermoons this year.
The pink supermoon rising over London
Dylan Martinez/Reuters

While the pink in the name "Pink Supermoon" is what makes this particular supermoon memorable the moon was not and is not pink in color. The moon known as the pink moon got its name from pink flowers called phlox. The name super pink moon alludes to moon names originally created by Native American tribes and while every supermoon has more than one name the association that pink has with spring blossoms was what made the name "Pink Moon" so widespread.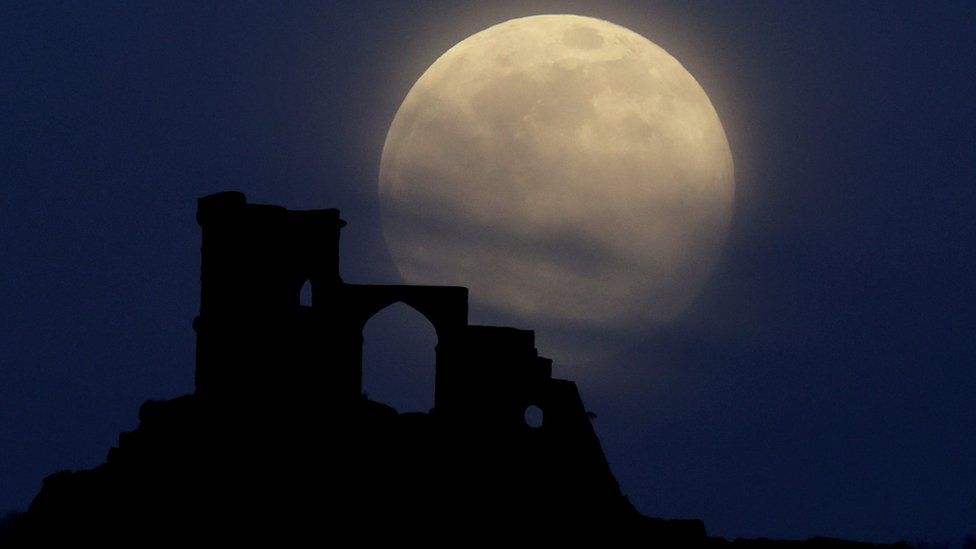 Reduced pollution caused by the covid-19 lockdown made this year's pink supermoon easy to see. If you missed this supermoon there will be another supermoon in may and meteor showers throughout April. There are many good reasons to "look up" this year.